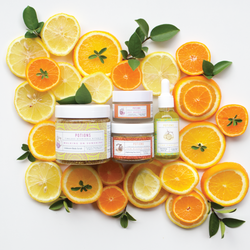 Brightening Ritual Collection
The Brightening Ritual Collection consists of our best-selling core brightening products. A collection of 4 products to address the appearance of dull and uneven skin tone, discolourations, skin imperfections and pigmentation to enhance skin clarity and boost luminosity for visibly more radiant and brighter skin.

Packed with powerhouse natural and organic ingredients such as Vitamin C rich citrus fruits, turmeric and antioxidants, proven to brighten the skin and balance skin tone.

1 x Walking On Sunshine Underarm/Body Scrub 200 grams
1 x Sun Kissed Gold Brightening Face Scrub 50 grams
1 x Lady Marmalade Lip Scrub 30 grams
1x The Canary Detoxifying Body Oil 30ml

Anyone that has pigmented, discoloured, dull and uneven skin



Walking On Sunshine Under Arm/Body Scrub  

After a bath or shower, spread a generous amount of the body scrub onto damp skin and massage the body with firm circular motions. Rinse off with warm water. Always use a dry spoon to scoop out the scrub and store it in a dry and cool space to extend lifespan.

Tips for Body Scrubbing:

Always start scrubbing from the feet upwards in the direction of the heart

Scrub the torso and back last

Scrub in circular motions

Apply firm pressure on thicker areas of the body like the bottoms of the feet and light pressure where the skin is thinner

For extra dry areas, scrub directly onto dry skin before a shower or bath and then continue scrubbing in water

Use the body scrub before a massage as prep for the skin

 

Canary Body Oil (Night Oil) 

Apply all over post-shower

Before toweling off and while your skin is still damp, drop oil over your entire body. Massage into skin until it is absorbed.A little goes a long way and works wonders to replenish dry skin.

Show extra dry spots TLC

Give those pesky dry spots (like heels and cuticles) an extra dose of oil to show those areas some tender love and care. It'll make all the difference in the long run.

Use it as a massage oil

Another great way to put your body oil to good use is to use it as a massage oil. Massage your entire body or wherever you need it the most. This will make your skin soft, loosen up the muscles, and relieve stress.

Abhyanga Self-Massage (Pre-Shower)

1.Apply the oil to your whole body, including the top of your head. Massage the oil into your scalp, moving in circular motions.

2.Continue to your forehead, ears, cheeks, and jaws.

3.Massage your chest and abdomen, moving in clockwise and circular strokes. On your trunk, massage inward along your ribs.

4.Continue to your back and butt. Massage in straight, long motions on your arms and legs. Move in circular motions on your joints.

5.Massage your feet, including your toes and soles.

6.Relax for 10 minutes to let your skin absorb the oil.

7.Have a shower. Use a gentle cleanser to remove the oil

 

Sun Kissed Gold Brightening Face Scrub

Step 1
After cleansing, apply a small amount of scrub on wet face or add drops of water to the scrub on your palm to emulsify ( please do not add too much water or your scrub may melt). 

Step 2
Massage in a circular motion concentrating on areas of congestion. Leave on for 3 to 5 minutes to allow the skin to fully absorb the facial scrub's ingredients

Step 3
Rinse well and pat dry. Follow up with a Mist/Toner and Mistress of Spice Face Serum. Use 2- 3 times a week.

Keep with the recommended use and you'll see how exfoliating helps to improve your skin week by week.

 

Lady Marmalade Lip Scrub

Step 1
Scoop out a pea-sized amount with a clean dry spoon or your clean dry finger 

Step 2
Scrub very gently on wet lips in a circular motion. Leave it on for a few minutes if you wish

Step 3
Rinse off and pat dry.

Step 4
Now that you have buffed and polished your lips, infuse moisture into your lips by applying lip balm for soft and supple lips.