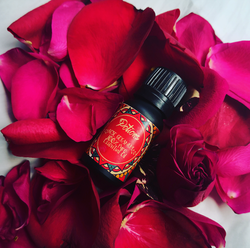 Potions Rose Geranium Essential Oil 10ml- 100% Pure
When William Shakespeare wrote "a rose by any other name would smell as sweet", he might have been talking about Egyptian Rose Geranium.

The Egyptian Rose Geranium can be described in one word as 'exquisite'. The use of geranium dates all the way back to ancient Egypt, where Egyptians used it to care for their skin . Today rose geranium essential oil is often used holistically to care for various aspects of physical, emotional and mental wellbeing.

This essential oil is distilled from the flowers of the Pelargonium roseum and has a sweet, floral and green herbaceous scent. It is well known for its balancing effect both physically and emotionally.

When applied topically on the skin, it is soothing to the skin and reputed for it's anti-ageing benefits

With its sweet and uplifting floral aroma, diffusing this oil helps to reduce mental stress and rid the mind of negative thoughts. Diffuse in your home or office to ease feelings of anxiety, and to promote a more positive and relaxed outlook. Also used to help ease physical discomfort, particularly symptoms of pre and post menopause, support a steady hormonal state and ease menstrual discomfort.

Botanical Name: Pelargonium graveolens 

[synonyms are Pelargonium graveolens var. roseum, Pelargonium roseum and Pelargonium x asperum]

Composition: 100% Pure Rose Geranium Essential Oil

Plant Part: Leaves,Stalks,Flowers

Method of Extraction: Steam Distilled

Origin: Egypt

Color: Yellowish brown liquid

Scent: Fresh, sweet, green,herbaceous scent

Cautions: Non-toxic, non-irritant, generally non-sensitizing. Contact dermatitis can be possible in very sensitive individuals.

Volume : 10ml

 

✓ Single Origin Essential Oil
✓ 100% Pure & Clean
✓ Sustainably and Ethically Sourced
✓ No Synthetics, Fillers or Additives
✓ For General Health and Wellbeing



WARNING
For EXTERNAL USE only. Our Essential Oils are 100% pure. However, we do NOT recommend the ingestion of essential oils. These essential oils are highly concentrated and have the capacity to cause serious damage if used internally without the necessary expertise required.

This is supported by the International Federation of Aromatherapists that does not recommend ingestion of essential oils unless under the supervision of a Medical Doctor who is also qualified in clinical aromatherapy.

Aromatherapy

- Sweet, uplifting floral scent promotes a sense of relaxation and enhances the feeling of well-being

- Reputed to reduce physical and mental stress

- Eases stress, depression, anxiety, tension and menopausal problems

- Reduces feelings of sadness and fatigue

- Balances emotions as well as the hormones

- Enhances concentration

 

Skin Care

- Reputed to effectively eliminate dead cells and to promote the regeneration of newer, healthier skin, thus benefitting acne-prone skin

- Works as an anti-inflammatory and anti-septic agent

- Astringent property helps tighten the skin and to diminish the appearance of the symptoms of ageing, such as sagging and wrinkling skin.

Hair Care

- Promotes hair growth by nourishing the scalp and balancing the production of sebum and natural oils.

 

Apply Topically: Our Rose Geranium essential oil is 100% pure and undiluted. For topical application, dilute with a high-quality Carrier Oil. Please refer to our recommended dilution chart here.

We recommend performing a skin patch test when using a new essential oil topically for those with sensitive skin.

Diffuse: Breathe in the scent of Rose Geranium oil using an essential oil diffuser. Diffuse 2-3 drops or more in an essential oil diffuser. 

DIYs: Explore simple and fun recipes under "Recipes"

Aromatherapy

Used in aromatherapy applications, the sweet scent of Geranium Oil is uplifting, energising, and inspiring, offering a sense of positivity and good health, both physically and mentally. To diminish feelings of sadness and stress and to enhance cognitive function, diffuse 2-3 drops of Geranium Essential Oil in an essential oil diffuser. 

 

Natural Air-Freshener

This recipe definitely beats the fake smelling commercial air fresheners with the nasty chemicals.

Here is a quick recipe on how to make your own Air Freshener:-

- 3/4 cup distilled water

- 2 tablespoons alcohol/ rubbing alcohol (you don't have to use alcohol, but the spray won't last as long without it)

- 15 drops Rose Geranium Essential Oil .

* if you are feeling adventurous you can make a blend with 8 drops lavender, 5 drops geranium & 4 drops grapefruit.

 

Anti-Microbial Remedy

Soothes and disinfects scrapes, cuts, and wounds

Dilute 2 drops of Geranium Essential Oil in water and wash the affected area with this mixture. Alternatively, Geranium Essential Oil can be diluted in 1 Tbsp. of Olive Carrier Oil and spread in a thin layer on the affected area. This application can be continued daily until the wound or irritation heals or clears up.

 

Yoga Practice

HOW TO USE IN YOUR YOGA PRACTICE

Anointing

Dilute a few drops of the essential oil to a carrier oil (like coconut or almond) and apply topically to your temples, wrists and back of your neck. It will help calm you during your practice and promote effective prana (breath)

Spritz the Room with Oil-Infused Mist

Take a clean spray bottle and fill it with 100ml distilled or filtered water. Then add 10-20 drops total of essential oil. Shake bottle and mist space

Oil Diffuser

Add a few drops to your diffuser. As the water evaporates it turns into a fine mist that carries and delivers the geranium essential oil into the air to create a lovely aromatic atmosphere

 

Blends well with Lavender, Rose, Neroli, Jasmine and other floral oils. It also blends seamlessly with citrus oils like Bergamot, Mandarin, and Grapefruit.
Amazing Essentials!
Rose essential oil's scent is so potent that a few drops in a dehumidifier leaves your house smelling of roses!
Intoxicating!
I can't get enough of this! Super intoxicating scent. Besides diffusing I also use a few drops in my lotions. Not only does it smell good but my skin is less oily. Love it.
Amazing Essentials!
Rose essential oil's scent is so potent that a few drops in a dehumidifier leaves your house smelling of roses!
Intoxicating!
I can't get enough of this! Super intoxicating scent. Besides diffusing I also use a few drops in my lotions. Not only does it smell good but my skin is less oily. Love it.