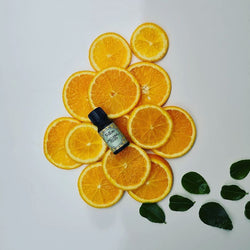 Potions Sweet Orange Essential Oil 10ml - 100% Pure
Sweet Orange Essential Oil makes your mouth water. Think of the smell when you peel an orange - the oils are literally just bursting from the skin into the air. Sweet, sunny, refreshing, citrusy, tart, and fruity.

The bright, just-peeled scent of Sweet Orange Essential Oil is uplifting and comforting for the mind, gently brightening the mood and easing feelings of anxiety, while it can also help detoxify the body.

The gentle oil is great for any skincare routine, especially for those with dry, dehydrated, or oily complexions. 

Sweet orange oil is also an excellent moisturizer for brittle hair as it's known to improve the smoothness of strands. The oil infuses vitamin C into the hair, which is essential for growth.

This citrus oil can also work as a secret weapon in the kitchen against stubborn grease stains.

Botanical Name: Citrus sinensis
Growth Method: Conventional
Plant Part: Peel
Extraction Method: Cold Pressed
Origin: South Africa
Color: Orange
Scent: Sweet, citrus smell like the orange peels
Cautions: Avoid sun exposure if applied to skin. May cause skin irritation in high dosage. If applied topically, wait 12 hours before exposing skin to strong UV light or sunlight.
Volume: 10ml



✓ Single Origin Essential Oil
✓ 100% Pure & Clean
✓ Sustainably and Ethically Sourced
✓ No Synthetics, Fillers or Additives
✓ For General Health and Wellbeing

 

WARNING

For EXTERNAL USE only. Our Essential Oils are 100% pure. However, we do NOT recommend the ingestion of essential oils. These essential oils are highly concentrated and have the capacity to cause serious damage if used internally without the necessary expertise required.

This is supported by the International Federation of Aromatherapists that does not recommend ingestion of essential oils unless under the supervision of a Medical Doctor who is also qualified in clinical aromatherapy.

Aromatherapy

- Uplifting
- Improves mood
- Promotes sleep
- Calms the nervous system
- Lessens anxiety
- Reduces stress 

Skin Care

- Improves dull complexions
- Tones the skin
- Encourages cell regeneration

 Hair Care

- Prevents and treats dandruff
- Can treat dry or damaged hair
- Works as a natural moisturizer
- Increases the elasticity of hair follicles

Apply Topically: Our Sweet Orange essential oil is 100% pure and undiluted. For topical application, dilute with a high-quality Carrier Oil. Please refer to our recommended dilution chart here.

We recommend performing a skin patch test when using a new essential oil topically for those with sensitive skin.

Diffuse: Breathe in the scent of Sweet Orange essential oil using a diffuser. Diffuse 2-3 drops or more in an essential oil diffuser. 

DIYs: Explore simple and fun recipes under "Recipes"

Blemish Treatment

Add 2 tsp raw honey and 2 drops sweet orange essential oil to a small bowl and mix well. Apply this all over your clean face, leaving out the eye and mouth area. Leave it on for 7 minutes then rinse off with warm water and wash your face with a mild cleanser




Kitchen & Bathroom Cleaner

- 14 oz (420 ml) water
- 2 oz (60 ml) white vinegar
- 20 drops Lemon
- 20 drops Orange
-20 drops Grapefruit 

Blend your water, white vinegar, and essential oils in a 16 oz (1 pint) spray bottle. Spray freely and wipe with a towel or sponge. Please note that the shelf life for this cleanser is a few weeks. Be sure to make a fresh batch after that

I suggest spot testing this on a small area of your countertop (or any surface you want to clean) to be sure it's going to respond well to the essential oils. Most surfaces are fine, but it's best to be sure!

Blends well with: Cinnamon, Coriander, Cypress, Frankincense, Geranium, Jasmine, Lavender, Juniperberry, Rose, Clove Bud, Petitgrain, Neroli, Nutmeg.