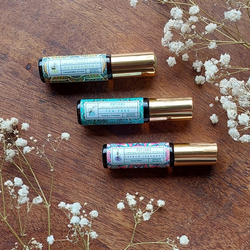 TRAVEL ESSENTIALS KIT: ESSENTIAL OIL ROLL-ONS : PEPPERMINT,TEA TREE, LAVENDER
Welcome to our Travel Essentials Kit! We believe that travel should be an invigorating and blissful experience from start to finish. That's why we have carefully curated a collection of three essential oil roll-ons to enhance your journey: Peppermint, Tea Tree, and Lavender. Let's explore the incredible benefits of these travel-friendly companions.
Peppermint Roll-On: Refresh and revitalize your senses with our Peppermint roll-on. Its cooling and invigorating properties provide instant relief from travel fatigue and mental exhaustion. Whether you're on a long flight or a road trip, a simple application of this aromatic roll-on to your temples, wrists, or neck will awaken your senses and keep you feeling energized throughout your journey.

Tea Tree Roll-On: Traveling exposes us to various environmental factors that can impact our skin. Our Tea Tree roll-on is a natural solution to combat any skin concerns you may encounter on your adventures. Known for its purifying and cleansing properties, this roll-on can be applied to blemishes, cuts, or insect bites to help soothe and support the skin's natural healing process, allowing you to travel with confidence and comfort.

Lavender Roll-On: Achieve a sense of tranquility and relaxation with our Lavender roll-on. Travel can be stressful, but with a swipe of this calming roll-on on your pulse points or the soles of your feet, you can create a serene oasis wherever you go. Lavender is renowned for its soothing properties, helping to alleviate anxiety, promote restful sleep, and create a peaceful atmosphere, ensuring you find moments of tranquility amidst your adventures.
Our Travel Essentials Kit is designed with convenience in mind. Each roll-on is compact and easy to carry, making them perfect for your travel bag. Crafted from pure, high-quality essential oils, they offer an authentic and immersive aromatic experience. These roll-ons are also TSA-compliant, so you can bring them along on all your journeys without any hassle.
Experience the power of nature's remedies with our Travel Essentials Kit today. Enhance your travel experience by invigorating your senses, caring for your skin, and finding moments of tranquility amidst the excitement. Embrace the joy of traveling with our essential oil roll-ons and make every trip a rejuvenating and memorable one.
Disclaimer: Essential oils are intended for external use only. Please consult a healthcare professional before use, especially if you have specific medical conditions, are pregnant, or nursing.