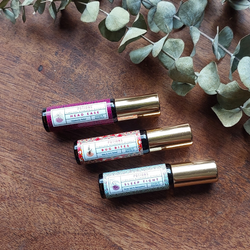 TRAVEL ESSENTIALS KIT: ESSENTIAL OIL ROLL-ONS FOR HEAD ACHES, BUG BITE RELIEF, AND SLEEP
Travel Essentials Kit
Say goodbye to travel discomforts and hello to soothing, refreshing, and peaceful moments on the go.
Our Travel Essentials Kit is a specially curated collection of essential oil roll-ons that are designed to elevate your travel experience. Whether you're seeking relief from headaches, protection from bugs, or a good night's sleep, our essential oil roll-ons have got you covered.
Head Ease Roll-On
Infused with a blend of invigorating healing Peppermint, Spearmint and Lavender Essential Oils
Offers quick relief from tension and promotes a soothing sensation
Simply apply it to your temples, forehead, or neck for a revitalizing experience that will keep you energized and ready to explore new horizons
Bug Bites Roll-On
Crafted with a carefully selected combination of essential oils of Lavender, Peppermint and Tea Tree with soothing, cooling, anti-itching and anti-inflammatory effects
Soothing application on affected areas helps alleviate discomfort and supports the body's natural healing process
Enjoy the great outdoors with peace of mind
Sleep Tight Roll-On
Formulated with calming and relaxing essential oils
Promotes tranquility and prepares your mind and body for a restful slumber
Apply it to your wrists, temples, or chest before bedtime, and let the gentle aromas lull you into a deep and rejuvenating sleep
Our Travel Essentials Kit is compact, convenient, and designed to fit perfectly into your travel bag.
Each roll-on is carefully crafted using high-quality, pure essential oils, ensuring a premium and effective experience. Plus, their compact size makes them TSA-friendly, allowing you to bring these travel companions with you on all your journeys.
Experience the power of nature's remedies with our Travel Essentials Kit today.
Embrace the joy of traveling without compromise and make every trip a truly unforgettable experience.
Here are some additional benefits of using essential oil roll-ons on the go:
They are small and lightweight, making them easy to pack in your carry-on luggage.
They are non-greasy and leave no residue behind.
They are versatile and can be used for a variety of purposes, such as relieving pain, reducing stress, and promoting relaxation.
If you are looking for a way to improve your travel experience, then our Travel Essentials Kit is the perfect solution for you. Order your kit today and start enjoying the benefits of essential oils on the go!