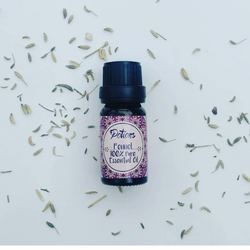 Potions Fennel Essential Oil 10ml - 100% Pure
Fennel Essential Oil is sweet and floral, yet somewhat spicy and peppery with a liquorice-like aroma.

Diffuse Fennel to support your active lifestyle, whether you spend it at the gym, chasing after children or simply battling through a busy day. Its uplifting and stimulating scent will help you stay focused.

Renowned for its potent liquorice flavour, it is a well-known culinary ingredient, but lesser realised are its uses as a powerful oil for skincare. Packed full of super antioxidants, Fennel Oil works with the epidermis to strengthen, protect, and re-energize skin in the face of environmental stressors that contribute to the creation of imperfections and premature skin ageing. It comprises potent anti-inflammatory compounds, which can do wonders for your skin especially a puffy complexion, and help to soothe and calm sensitive skin.

During times of high stress, diffuse 2 drops of Sweet Fennel with 2 drops of Rosemary in your favourite aromatherapy diffuser or diffuser necklace to uplift and revitalize the mind.



Botanical Name: Foeniculum vulgare

Composition: 100% Sweet Fennel Oil

Growth Method: Conventional

Plant Part: Seed

Method of Extraction: Steam Distilled

Origin: Spain

Colour: Clear

Scent: Sweet, floral, and similar to licorice

Cautions:Sweet fennel oil is non-toxic and non-sensitizing. May cause mild skin irritation. Sweet fennel is often contraindicated during pregnancy, for breast-feeding mothers, and in cases of epilepsy and estrogen-linked cancers. Do not take sweet fennel essential oil internally.

Volume:10ml


✓ Single Origin Essential Oil
✓ 100% Pure & Clean
✓ Sustainably and Ethically Sourced
✓ No Synthetics, Fillers or Additives
✓ For General Health and Wellbeing



WARNING

For EXTERNAL USE only. Our Essential Oils are 100% pure. However, we do NOT recommend the ingestion of essential oils. These essential oils are highly concentrated and have the capacity to cause serious damage if used internally without the necessary expertise required.

This is supported by the International Federation of Aromatherapists that does not recommend ingestion of essential oils unless under the supervision of a Medical Doctor who is also qualified in clinical aromatherapy.




Aromatherapy

Improves mental focus and clarity
Known to ease tiredness, exhaustion, and dizziness.
Motivates 
Energising and uplifting




Skin Care

Natural antiseptic to protect against infection
Soothe and calm sensitive skin
Help restore vitality for mature or lacklustre skin.
Can also assist in soothing digestive issues (if used in a massage blend)

Apply Topically: Our Sweet Fennel essential oil is 100% pure and undiluted. For topical application, dilute with a high-quality Carrier Oil. Sweet Fennel can be skin irritating so always make sure you dilute to 2% before use. 

We recommend performing a skin patch test when using a new essential oil topically for those with sensitive skin.

Diffuse: Breathe in the scent of Sweet Fennel essential oil using a diffuser. Diffuse 2-3 drops or more in an essential oil diffuser. 

DIYs: Explore simple and fun recipes under "Recipes"

Morning Ritual 
Create a morning ritual by diffusing Fennel essential oil to help promote focus and clarity toward decision-making.

Stress Relieve
During times of high stress, diffuse 2 drops of Sweet Fennel with 2 drops of Rosemary in your favourite aromatherapy diffuser or diffuser necklace to uplift and revitalize the mind.

Blends well with floral oils such as geranium essential oil, rose essential oil, ylang-ylang essential oil and lavender essential oil; citrus oils like grapefruit essential oil and orange essential oil; also sandalwood essential oil, cypress essential oil and sage essential oil.