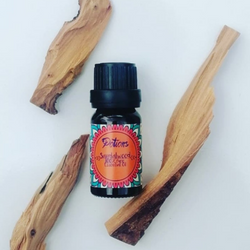 Potions West Indian Sandalwood Essential Oil 10ml - 100% Pure
Intoxicating and exotic, light, warm, sweet woody scent with honey notes, the West Indian Sandalwood Essential Oil has an aroma that is one of a kind. It is thought to be one of the oldest materials used for aromatic and perfumery uses and has been used for at least 4,000 years.

Also known as Amryis, it is a sustainable substitute of the now endangered East Indian Sandalwood.
At Potions, we don't carry the traditional Sandalwood (Santalum album) because it has become an endangered species. Instead, try Amyris which has a similar scent and similar properties as Indian Sandalwood (and is way more budget-friendly too)!

It lifts the mood and can help clear and calm the mind and induce a meditative state.

If there is any essential oil you'll want on hand to help relieve stress and anxiety brought on during daily tasks, it's West Indian Sandalwood. Adding this oil into your life can help soothe your mind, bringing a sense of calm, after a tiring, long day.

It can be helpful for hydrating and rejuvenating dry and mature skin. Help improve the appearance of fine lines and the texture of mature skin.

Botanical Name: Amyris balsamifera
Composition: 100% Pure West Indian Sandalwood Essential Oil
Plant Part: Wood
Method of Extraction: Steam Distilled
Origin: Haiti
Color: Clear – Pale Yellow
Scent: A subtle woody aroma, with sweet, dry, honey notes.

Cautions: 

No toxicity reported but if using for the first time or if you have sensitive skin spot test first

*West Indian Sandalwood is a very viscous oil and may thicken when cold. Place in a warm area or put the sealed bottle in hot water to liquefy.

Volume: 10ml

✓ Single Origin Essential Oil
✓ 100% Pure & Clean
✓ Sustainably and Ethically Sourced
✓ No Synthetics, Fillers or Additives
✓ For General Health and Wellbeing

WARNING

For EXTERNAL USE only. Our Essential Oils are 100% pure. However, we do NOT recommend the ingestion of essential oils. These essential oils are highly concentrated and have the capacity to cause serious damage if used internally without the necessary expertise required.

This is supported by the International Federation of Aromatherapists that does not recommend ingestion of essential oils unless under the supervision of a Medical Doctor who is also qualified in clinical aromatherapy.

Aromatherapy

-Brings clarity to an overloaded mind and improves reasoning
-Helps alleviate daily feelings of pressure
-Lifts away stress and anxiety

Skin Care

-Effective as a sedative, muscle relaxant, emollient, decongestant and antiseptic
-Helps regenerate skin and slows aging
-Soften and soothe dry irritated skin-Effective insect repellant

Apply Topically: Our West Indian Sandalwood essential oil is 100% pure and undiluted. For topical application, dilute with a high-quality Carrier Oil. Please refer to our recommended dilution chart here.

We recommend performing a skin patch test when using a new essential oil topically for those with sensitive skin.

Diffuse: Breathe in the scent of West Indian Sandalwood essential oil using a diffuser. Diffuse 2-3 drops or more in an essential oil diffuser. 

DIYs: Explore simple and fun recipes under "Recipes"

Meditation Mist
Meditation is a great way to reduce stress and create a safe space for fresh new thinking to emerge. As part of your meditative practice, you could add this oil to the mix by creating a Meditation Mist to clear the space around you and to spritz over yourself before you start!

Mix 10 drops West Indian Sandalwood, 10 drops Lavender, 10 drops Frankincense in 100ml water in a spray bottle and use before and during meditation as required

Dry & mature skincare
Add 1 drop of Amyris to 5ml of cleanser, toner and moisturiser to help rehydrate and renew your skin! 

Blends well with Bergamot, Cedarwood, Frankincense, Geranium, Grapefruit, Lavender, Lemon, Sweet Orange, Patchouli, Petitgrain, Rose, Tangerine, Vetivert, Ylang Ylang.